Introduction
Top fetish porn site, ExtremeStreets is made for fans who take BDSM porn for breakfast. It comes from the well-experienced hardcore porn production, CzechCash. But while most of the porn sites under this label can already be described as rough and hard, you'll surely get surprised at how intense the scenes of ExtremeStreets are. The beautiful models from the streets don't need that much convincing, only thousands of dollars to give up their morals and reputations. They do not care what awaits them as long as their gloryholes have been bought by wads of insane cash!
Site Layout
On the official website, it will only take you a few seconds to realize that this one is not for the faint of heart. You'll see gaping anal holes in close-up shots and ladies who look as if they've been through hell after the fucking scenes. There are different things on the videos that you will not consider your usual sex toys. But all the same, they look very interesting. Iphones, cucumbers, road safety cones being shoved in tight asses, you can only think everything is bizarre and completely insane. However, the site permits you to take a glimpse of the actions for free so that you'll see that every encounter is real.
The content display boasts 4K viewing resolutions. There are also tags you can use to filter the scenes. However, you won't need the sorting tools at the moment because the collection is new. There are more than twenty scenarios and the updates come every week. But to be honest, one video is enough to keep your raunchy porn desires fully satisfied in a week. Yes, that's how powerful every scene in this collection is. It will keep you awake at night and you will surely want to replay the scenes before you even go to opening another!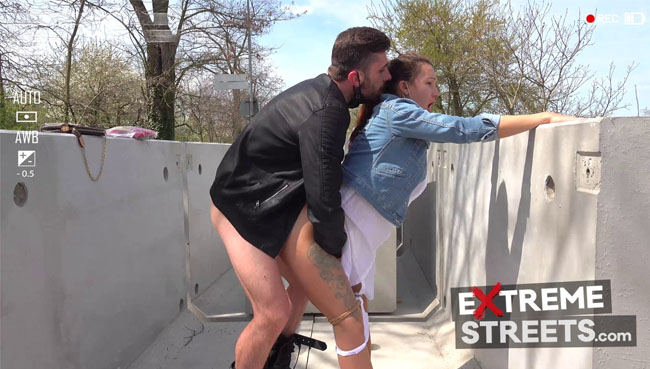 Chicks and Movies
ExtremeStreets is a porn collection title that is very true to its name. The models are from the streets of the Czech Republic, hunted by dirty-minded guys who just seem to know who will say yes and who will say no. These guys are armed with loads of cash and that makes them almost invincible. You will feel the tension as they approach innocent-looking ladies and offer them deals that they won't be able to forget for the rest of their lives. But to be fair, the models are not so amateur after all. They know how to deal with huge things and they can even make the encounters look as if it's the easiest work they ever have to do in their life. After all, they run off with thousands of dollars in their pocket!
Bottom Line
The creators of ExtremeStreets have definitely ensured that you'll get your mind blown even if you are into BDSM porn. The hardcore twist of amateur girls being picked and fucked wildly on the streets makes this collection more interesting than anything else the network has ever produced. So, if you are ready to see something that is both disgusting and delightful, explore this collection and you'll surely see unforgettable scenarios!
This site is no longer updated, check out this top fetish porn sites selection!

---
or get to know something more about ExtremeStreets on some other quite good review sites.
---