Introduction
Top 4K dating porn site, Real Fucking Dating is home to horny boys and girls who use the pretense of dating solely for the purpose of hardcore fucking! The high-quality scenes give you a mix of professional porn models and newcomers from Europe, with the majority of them hailing from Germany. The hot and casual sex are very realistic and some of them are filmed from your POV. There is a nice variety of indoor and outdoor fucking encounters as well. Membership gives you a steady stream of updates not only from Real Fucking Dating but also from a handful of similar porn sites owned by the one and only Full Porn Network.
Site Layout
Real Fucking Dating's official website exhibits the trademark of the Full Porn Network, simple but functional. Even if you are not used to browsing porn sites, it will only take you a few seconds to get comfortable, thanks to the site's well-organized layout. You will first see the general members' area of the network, from which you have two convenient ways of accessing things. You can simply head to the Channels section, or use the basic keyword search for instant results. The designated sections for the videos based on their upload date and popularity work well with the search engine and other browsing tools like linked tags. Though there are some advertisements, you don't need to exert extra effort to find exactly what you're looking for.
This website also takes pride in offering a plethora of useful tools on the videos page, which will undoubtedly come in handy as you delve into the amazing bonuses the network offers. Currently, Real Fucking Dating is modest in size, however, it won't take you long to find out that the extras available are indeed worth your time and money. Furthermore, for additional convenience, you can save your favorite videos and post your thoughts and feedback. You can even engage with other members and discuss your favorite episodes.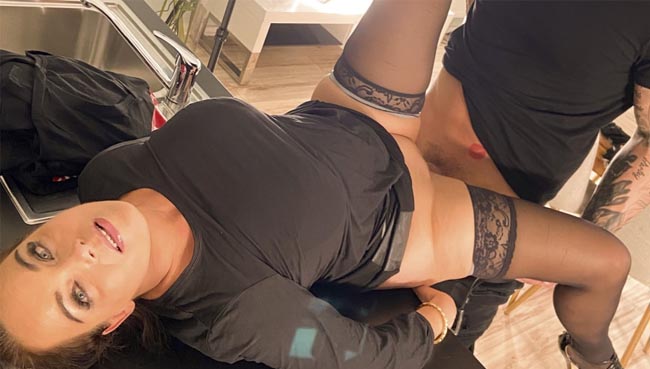 Chicks and Movies
Real Fucking Dating showcases the sexy adventures of people who are not afraid to fulfill their sexual desires to the fullest. Everyone takes advantage of every second. They don't spend time exchanging pleasantries as they already know what their desired endings are. You'll find the models groping each other right away inside a bar, in the streets, inside cabs, and in some places that many will deem inappropriate. The theme may be the same, but you can always count on a diverse and creative storyline. Notably, as you explore each video, you'll find a wealth of information, such as detailed descriptions, relevant tags, and related scenes that will give you a comprehensive understanding of what each scene offers. Moreover, there are multiple stream and download options, ensuring you can watch your favorite scenes in the most favorable terms.
Bottom Line
Real Fucking Dating promises a top-notch experience with its high-quality and exclusive videos of hardcore hookups. All the models are gorgeous and they can easily make you forget everything else around you. Aside from the very convincing performances, you'll also love the site's easy browsing set up, of course, the consistently growing collection and enticing bonuses!

---
or get to know something more about Real Fucking Dating on some other quite good review sites.
---