Introduction
JoyBear Pictures is a film production company which makes award-winning, sex-positive erotic films. They are raising the standards of erotic filmmaking through their performers, locations and British film-graduate directors. Their goal is to make films which represent real-life sex. The reason behind is, that stories make sex really naughty. And they are true. Every scene needs a story to be fully enjoyed by a person. Dry porn videos and movies, without any of it is just having sex without any feelings. JoyBear takes this subject very seriously and does the best. As they say, sex is sometimes funny and not always perfect and they love that. That's because they often leave these little moments in films. All the models there have natural body shapes and every single ones is someone, you'd be extremely happy to sit next to and start flirting. The more it feels like reality, the more turn on it becomes. After foundation in 2003 by Justin Santos, JoyBear's award winning films are distributed globally. They do the best in movies and are really affecting on standards of erotic filmmaking. By accessing JoyBear, you get unlimited access to all the films and scenes they have on 3 platforms. Mobile, tablet and desktop. You can carry this amazing content everywhere you go. Also there is a JoyBear Journal, where you can find erotic posts and some of them include their own models, whose beauty is outrageously amazing. Follow JoyBear on Instagram and other social networks, to get all the updates, including erotic ones. This site is truly standing above average porn, this is a revolution in standards of erotic filmmaking!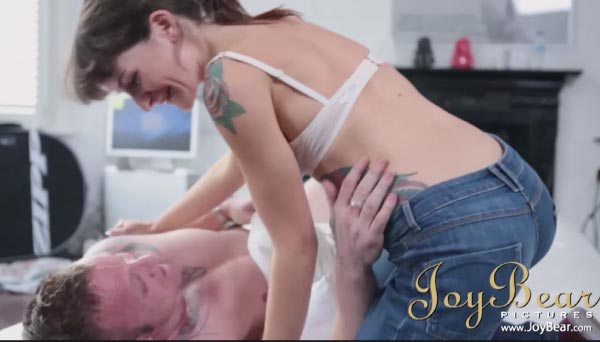 Site Layout
User interface, as well as the design of JoyBear is made with style. Mix of black and gold is elegant and erotic at the same time. Names of films are in gold above pictures from them which are black and white. It somehow gives you extra boost to open it right away. Style of letter on site is beautiful. Everything is done accurately, with style and you can tell that they put their souls in this site. Every single page seems perfect, about section of site briefly describes everything you need to know. All the features you need are there and waiting to be clicked on. Streaming speed of videos is pretty high, you will never get frustrated by buffering content. High class porn site has to offer high class services, and JoyBear does the best in this. Also, mobile and tablet versions of site is a strong feature, which you can also have here, alongside with other amazing perks. Story driven porn movies are very popular nowadays. Watching dry videos with bouncing boobies gets boring after couple days. You need some story, some emotion, passion, reason and all of these you can get in every video of JoyBear. Compared to competitors, JoyBear can compete easily with any other high class porn site. I can easily say it is one of the best sites in its kind. And it will always be, because such content and features.
Chicks and Movies
Girls on JoyBear are the best of the best. Victoria Summers, Tamara Grace, Danielle Ashley Maye and many more. All of those girls have natural beauty. Those breasts, bodies, asses, faces, passion in the eyes, performance. Every single thing in those girls is just perfect. Just by looking at Amarna Miller, you can feel every bit of her. You lose your mind while watching her doing what she enjoys the most. Number of movies on JoyBear is pretty high. And the quality is just outstanding. You can't see a better movie anywhere. This is the true power of HD combined with angels and a good story behind, a perfect movie! JoyBear truly does one of the best porn movies. One of the movies is called "Corporate Bonding". Rookie lawyer Leyla organizes a team building weekend by the beach. As trust is gained, intimacy is earned and sparks start to fly. Film includes 5 scenes, all of them is filled with passion and love. Story is pretty good and variety of categories of porn in this film is also good. Here are 8 performers, who do their best to deliver all that passion and love to you: Hannah Shaw, Amber Nevada, Amarna Miller, Luke Hotrod, Sienna Day, Tyler Nixon, Max Deeds and Tamara Grace. Every single one is perfect, naturally beautiful and filled with emotions ready to burst out in any moment. JoyBear is doing one of the best porn movies in the world. Each one of them filled with many kinds of sex, it is filled with emotions, passion, love and many more! You watch and enjoy the story as well as the erotic part. High level of execution and HD quality makes these films just perfect.
Bottom Line
JoyBear is truly raising standards of erotic filmmaking. Every single movie is done with passion and with great effort. You enjoy every second of it and want to watch more and more. Why subscribing other porn sites, when you can get a member of such an amazing site, where everything matters. Not just meaningless sex done without any emotions in no time. It's all about passion and love. The more reality a movie has, the more people will like it. JoyBear is a revolution in filmmaking, elegant site where everything is done with style. By looking at trailer of any movie, you feel the power of JoyBear filmmakers, you realize what all of this is about and what should a porn movie look alike. Compared to other porn sites, JoyBear is on the highest level of erotic filmmaking, looking from above and showing that porn is not just two people having meaningless sex. It's all about passion, love, story and many more, which is perfectly done by JoyBear.

---
or get to know something more about JoyBear on some other quite good review sites.
---