Introduction
Great amateur porn site, Dirty Couple belongs to a kinky European couple who wants to share with the world how hot and active their sex life is. The main actress is named Diana and she stars in the videos with her chubby and horny boyfriend. The couple fucks each other in every way possible, erotic and intense alike. You only need to see a video and you can quickly conclude that this couple has years of hardcore experiences under their wings. The shots are clearly amateur but the collection is worth watching if you're into raunchy, reality xxx scenes.
Site Layout
When it comes to the website, you can easily spot that Dirty Couple is indeed a work of an amateur porn producer. However, for the record, the presentation of the raunchy scenes is quite excellent. Unlike other amateur porn sites out there with standard designs and layout, Dirty Couple comes unique and welcoming with its purple background and nicely-sized video thumbnails.
The homepage goes straight to the hot scenes right away. Surely, you came here for xxx fun and that is exactly what Dirty Couple will give you. Full-screen images of the kinky couples, naked and in the middle of something hot and naughty will greet your eyes right away. There's a brief description, but I bet you wouldn't need it as you'll get an ample amount of screenshots taken from the full-length videos.
If you're in the mood to take your time, or should I say to slowly build that exciting tension in your groin, you are very much welcome to check out the other pages. You can check the latest scenes to see how active this site is, or you can visit the list of sites that are connected with this collection. Lucky for you, you will gain access not only to almost 500 raunchy hardcore videos, but as well as to some reality-themed porn sites for an amazing price of one. Now, how's that for xxx generosity?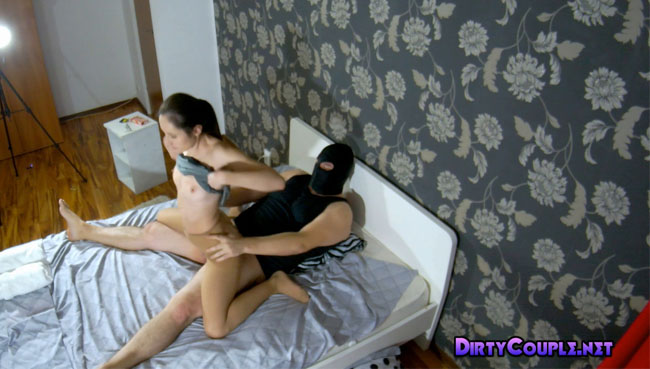 Chicks and Movies
Amateur xxx videos are so great because it can remind you of your own experiences, or it can fire up your imagination whenever you're in a hot mood. With tons of options nowadays, it becomes increasingly rare to find a porn site with an amazing atmosphere, the kind that can show you the beauty of sex between couples. Well, Dirty Couple is one of those sites in which the content features real-life experiences. The performers are clearly fucking each other after their sheer desire and not after fame or money. But of course, that's a big bonus on the side. The set-up is amateur, the location is just a simple bedroom, but undoubtedly, the overall entertaining factor can beat those of the premium porn sites with hired performers and well-staged scenes.
Bottom Line
By the name of the site itself, you can easily imagine that you'll witness something dirty, or let's put it this way, insanely naughty. The couple performs genuinely and they don't need scripts to successfully pull the hot actions. They do what their hearts desire and they certainly do it well.
Discount
If you cherish the content Dirty Couple provides you with, you should be turned on to realize that we make available a voucher to visit it, although there are different other sites having top-notch deals like for instance on Best-paypornsites.net you can use a big Dirty Couple discount and Goodpornsites.net similarly gives nice and updated Dirty Couple discount.

---
or get to know something more about Dirty Couple on some other quite good review sites.
---