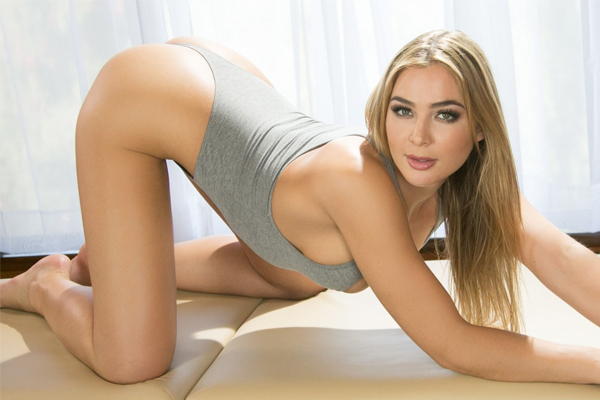 Blair Williams Info
| | |
| --- | --- |
| Name | Blair Williams |
| Birth date | March 28, 1994 |
| Birth Location | Loma Linda, California |
| Height | 5'9″ |
| Measurments | 36D-29-38 |
| Number of movies | 70+ |
---
The early life
Blair Williams was born on March 28, 1994 in Loma Linda, California. Her parents divorced while she was young, her mom was living in the suburbs and her dad in Carlsbad. She had to move constantly up and down in Southern California. The Hazel-eyed 5 feet, 9 inches amazon, had a very modest and pious early life.
She has always loved God and was always going to church even at an early age without her parents. She attended a private Christian institution and then was off to a catholic higher institution, all her academic life. She steered clear of boys all through and didn't get to kiss till she was 14 and never went all the way till about four months before her 19th birthday, giving her first blowjob just before graduation. Being at a co-ed tertiary institution, hormones went haywire and she just had to have a taste of the awesome cocks always in her face. She was an academic genius, getting a 2000 as her SAT score. Presently, she is studying communications and planning on starting a real estate career later in life, after earning her degree.
This beautiful damsel is what you would call a real angel. She has been with the church, working as a teacher for three years. She teaches pupils between the ages of 1 to 6 during church and they read bibles, watch videos, and play games. It is an entirely different side of her and her personality is what you would refer to as 'well rounded'. She is sweet and extremely loving but can switch up in a twinkle of an eye and become an awesome freak when the situation demands it. She had her boobs enhanced with silicone and has no tattoos or piercings. She can be contacted by her fans via her twitter page.
---
You may watch the best Blair Williams content on
---
Her Career in the porn industry
Even though she is still studying, this amazon first became conspicuous to the public as a contestant, and then a winner in the porn reality show The Sex Factor. The show was streamed online, hosted by Asa Akira and the winner was to walk away with a million dollars. Long before the start of her career, she started following porn stars on social media and a promo post by Asa Akira's Twitter was what spurred our blonde angel into action. Just weeks after applying, she was on her way from California to Nevada, to stardom and a million dollars.
In 2015, she moved on to featuring in X-rated hard-core scenes and in the past couple years, she has featured in a lot of videos, TV shows and incredible scenes. She particularly enjoys scenes like hard-core, threesome, striptease, and oral, POV, among a couple others. Some of her movies that got really popular include Escape from Pleasure Planet, Dare Dorm, A Lesbian Romance, and a lot of others. With her hard work and dedication, all paid off and in 2017, she got nominated for two awards; AVN nomination (fan's favorites) and also Digital Playground in the Best Deep throat category. She is very industrious and with boisterous energy and dedication, she has been steadily climbing the ladder to stardom.
---
Blair Williams videos
---
Blair Williams Photo Gallery