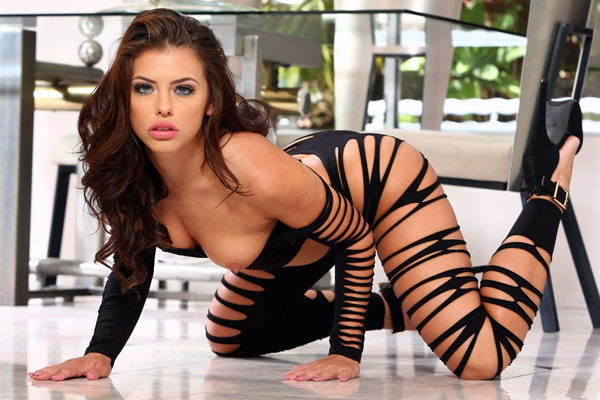 Adriana Chechik Info
| | |
| --- | --- |
| Name | Adriana Chechik |
| Birth date | November 4, 1991 |
| Birth Location | Downingtown, Pennsylvania |
| Height | 5'2″ |
| Measurments | 32B-24-33 |
| Number of movies | 300+ |
---
The early life
The beautiful angel of Russian, Serbian and English descent, was born on November 4, 1991, in Downingtown, Pennsylvania. Even though she is not 100% sure of her roots, she definitely knows where she wants her future leading and she is doing to do the best she can to make that come true.
After earning her General Equivalency Diploma, she went on to Drexel in a bid to make a career in the Biochemistry world. She was a bit on the nerdy side and didn't venture into the sexual world until a bit later, around when she came of age. She lost her virginity to the son of her best friend whom she was living with for a long time. After they broke up, she met a stripper and they became fast friends. She went to strip clubs with her and then later she got into the stripping scene herself.
Later, she moved to Miami with her stripper friend and they made a name for themselves there. With her stunning 5 feet 2 inches body, and sultry green eyes, it was no wonder the brunette made it big in the strip clubs. Having a bit of resemblance to Adriana Lima was also a very welcome plus.
Adrian Chechik loves hiking and is a fan of scary movies, with her favorite being the original Texas Chainsaw Massacre. She loves gaming also and she claims to be adept at Call of Duty: Black Ops. She is a fan of reggae music and also loves house. Her favorites TV shows include Game of Thrones and Hemlock Grove.
---
You may watch the best Adriana Chechik content on
---
Her Career in the porn industry
She got introduced to the porn industry, through her girlfriend who was working at a strip club with her. She invited Adriana on set with her and after watching the girls in action, Adriana was convinced she had to be a part of it. Just two days after, she was already shooting her first scene which was a threesome with a guy and another girl. She said it was particularly tedious for her because she had never hooked up with a girl before, not to mention on camera. Her closest experience with a girl was in the 6th grade, they were making out, grinding and bumping and she thinks she still haven't had as good a sex as she did back then.
Her stage name was gotten from a guy named David Chechik who was a movie director, majorly horror, but nothing big or popular. She chose the name because it was unusual and she wanted something different. The Adriana name was just because it starts with an 'A', which comes first in all talent lists.
She just started her career in 2013, but has since won a lot of porn awards and an even greater amount of nominations. With her wanting to become the queen of Double Penetration, because she feels being the queen of anal is overrated and too many stars are vying for that position already. She has even tried triple penetration, which she claims have been some of the best 10 minutes of her life.
---
Adriana Chechik videos
---
Adriana Chechik Photo Gallery